About Us
We, Avis Metal Industries Ltd., are an ISO certified manufacturer and exporter of Tungsten Carbide Mining, Tungsten Heading Tools, Coal Mining Tools, Tungsten Drawing Tools etc. Our production unit is spread over an area of 15000 square meters and has two manufacturing facilities having the capacity to produce 250 MT of Tungsten Powder and other products. One facility of ours is dedicated for purifying of Tungsten & Cobalt Powder, whereas the other one produces Sintered Tungsten Carbide parts. We have access to the latest machines & equipment in our manufacturing plant and laboratory which helps us to simplify the task. We are thankful to our team and business associates who give their 100% to attain the set goals of the company. Besides this, we maintain honesty in our business deals and follow all the industrial norms at our production wing. We are happy to report that our efforts to make customers happy are being successful. Also, our rich industrial experience constitutes a major reason behind the popularity of our entity in the market. If you are among those customers who want to join hands with a dexterous and certified enterprise then, feel free to contact us, we will be happy to serve you.
ISO Certified
Our company has been awarded an ISO 9001:2015 certificate, which is an achievement and the biggest evidence to be entirely a quality-centric firm.
Process & Production Linel
To offer the products like Carbide Drills, Tungsten Cutting Tools, Ultra Fine Cobalt Powder, Cobalt Ash, etc. of the international standards, we process the production line with equipment and tools that are advanced and technologically upgraded by Cold Isostatic Press Machine.
Laboratory Instrument
We have a well-equipped laboratory at our premises where the quality of the products is checked and innovations are taking place. We have installed ultra-modern gadgets in our production wing that help us to attain goodness in our products. With the progression in technology, we keep on upgrading our laboratory instruments so that we can stay ahead in the industry.
Our Attributes
Our team is blessed with complete knowledge along with rich practical experience in the respective field.
From time to time, we keep on upgrading our tools and machines in order to stay a step forward in the industry.
We make sure to deliver Cemented Carbides, Metal Powders, Tungsten Mining Tools, Tungsten Carbide Mining Tools, etc. on assured time.
We give prime importance to honesty, quality and client satisfaction.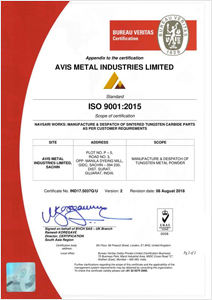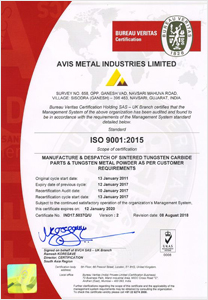 Read More